The AHA Centre's Response in Thailand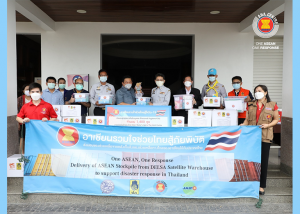 08 September 2021
-
To support the ongoing COVID-19 response in Thailand, the Department of Disaster Prevention and Mitigation (DDPM), Thailand mobilised 3,065 personel hygiene kits (PKH) to Samut Prakan Province, Nonthaburi Province, and Dusit District in Bangkok.
Funded by Direct Relief through the AHA Centre, the items were mobilised from the Disaster Emergency Logistics Systems for ASEAN (DELSA) Satellite Warehouse in Chainat, Thailand and witnessed by the Deputy Director-General of DPPM Thailand, Mr. Chainarong Vasanasomsithi.
DELSA was established as key mechanism to allow swift provision for relief items to ASEAN countries with the support from the Government of Japan through Japan-ASEAN Integration Fund (JAIF).
Other What's New