Policy Speech by Prime Minister KISHIDA Fumio (New Plan for a "Free and Open Indo-Pacific")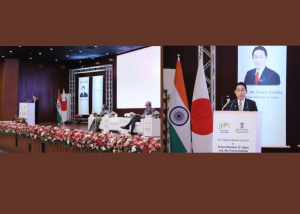 20 March 2023
-
On March 20, from 2:35 p.m. (6:05 p.m., Japan time), for approximately 35 minutes, Mr. KISHIDA Fumio, Prime Minister of Japan, who is visiting New Delhi, India, delivered a policy speech entitled "The Future of the Indo-Pacific—Japan's New Plan for a 'Free and Open Indo-Pacific' — 'Together with India, as an Indispensable Partner' " at the Indian Council of World Affairs (ICWA), announcing Japan's new plan for a "Free and Open Indo-Pacific (FOIP)." H.E. Dr. Jaishankar, External Affairs Minister of India, attended this speech, representing the Indian government.
Out of the five points overview of the speech, Prime Minister Kishida set forth the new "four pillars" of cooperation for FOIP: principles for peace and rules for prosperity, addressing challenges in an Indo-Pacific way, multi-layered connectivity, and extending efforts for security and safe use of the "sea" to the "air". He explained in concrete terms the expansion of cooperation for FOIP by incorporating realistic and practical cooperation in wide range of areas, such as climate change, food security, global health, and cybersecurity. He also announced a new contribution of 100 million US dollars to the Japan-ASEAN Integration Fund.
Read full Policy speech by Prime Minister Kishida from the following links:
Japanese (PDF)
More news also published on The New Indian Express, Fortune India, Financial Express, and The Times of India.
Other Whats New