The Mission of Japan to ASEAN Organised a Japanese Food Event at the ASEAN Secretariat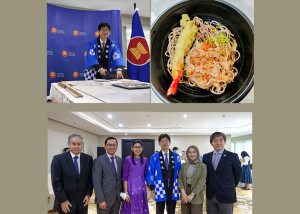 22 December 2022
-
A handmade buckwheat noodles ("teuchi soba" in Japanese) demonstration by a Japanese soba master was organized by the Mission of Japan to ASEAN in cooperation with the ASEAN Secretariat and the Permanent Mission of Thailand. Despite the end of the year, representatives of ASEAN member countries and many staff members of the Secretariat visited the event, enjoyed the powerful demonstration, and appreciated the actual tasting.
JAIF Management Team (JMT) Director Minamiguchi also attended the event and indulged in the exquisite soba!
Various projects supported by the Government of Japan through the Japan-ASEAN Integration Fund (JAIF) have been implemented to support key ASEAN strategies in the areas of food, agriculture, and forestry.