Japan Announced the Winners of Logo Design and Catchphrase Competition for the 50th Year of Friendship and Cooperation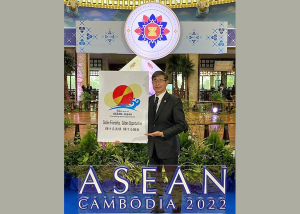 04 August 2022
-
The announcement everyone has been waiting for is here! Congratulations to the winners of the Logo Design and Catchphrase Competition for the 50th Year ASEAN-Japan Friendship and Cooperation.
The philosophy behind the logo:
The red circle represents the Japanese flag; wrapped in a mobius ring of ribbons where each bound stalks of rice represents each ASEAN Member States. Southeast Asian countries are connected by the ocean; this is incorporated by the blue waves into the logo.
This logo and catchphrase will be used officially to commemorate the golden anniversary of ASEAN-Japan relations taking place next year, 2023.
The official announcement from MOFA Japan can also be viewed through the links below:
https://www.mofa.go.jp/press/release/press1e_000316.html
Winner and runners-up announcement from Japan-ASEAN Centre: